Due to growing concerns of COVID-19 and the exposure to people at community and group events, RAFA has decided to suspend all in-person activities until larger health risks caused by this issue are resolved. RAFA is dedicated to reducing risks and keeping our members healthy.
See our COVID-19 Update page for the newest information.
Mark your calendar now and plan to join us for another exciting season of flute events!
You can download our season brochure here.
Jump to:
9/20/20 Laura Stevens
11/8/20 Review & Contest
POSTPONED: Artist Competition
11/14/20 Flute Fair
2/21/21 Pedagogy Colloqium
4/24/21 Solo & Ensemble Fest
5/21 Members' Recital
---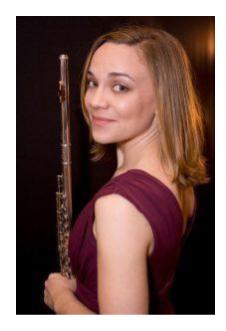 Concert & Class featuring flutist Laura Stevens
Sunday, September 20, 2020
1:00-3:00pm
This is a VIRTUAL EVENT. The performance will take place via our YouTube page. The class/presentation will be hosted on Zoom.
Laura Dangerfield Stevens, flute professor at UNC Chapel Hill, member of Elektra Winds and Salisbury Symphony, and principal flutist of Western Piedmont Symphony, will perform a live-streamed concert with pianist Yumi Kita, followed by a presentation on how to make a great video and recording on any budget.
1:00 – 2:15 PM Concert: #trendingladies
The concert by flutist Laura Stevens and pianist Yumi Kita will feature works by Eugénie Rocherolle, Katherine Hoover, Valerie Coleman, Anne Boyd, and Yuko Uebayashi.
2:30 – 3:30 PM Class/Presentation: "Making Audition Recordings in the Age of COVID: Tips on how to make a great video and recording on any budget"
Join Zoom Meeting
https://unc.zoom.us/j/94520691388?pwd=R3BJQnkxY25tT2R0TmRqZWc4cjZGdz09
Meeting ID: 945 2069 1388
Passcode: 672859
---
Review and Contest (36th annual)
Sunday, November 8, 2020
Virtual Event
Review and Contest (36th annual) Sunday, November 8, 2020 1:30 – 5:30 PM Scholarship competition for local flutists of all ages. Contest winners will have the option to submit a pre-recorded solo as part of the virtual Flute Fair on Saturday, November 14.
See R&C Page for full rules and registration.
---
POSTPONED: RAFA Artist Competition (6th annual)
Due to the COVID-19 pandemic, the 6th annual RAFA Artist Competition is postponed until the Fall of 2021.
---
RAFA Flute Fair (32nd annual) with guest artist Molly Barth
Saturday, November 14, 2020
Virtual Event; 9:00am – 5:00pm
All events to be held virtually on Zoom. All current RAFA members will receive access links through the Flute Fair landing page* in advance of the event. You can renew/join RAFA here.
*Active members will be given a password when the page is made active.
Schedule of Events:
9:00 – Masterclass with Molly Barth
Join in learning as two performers, who have submitted pre-recorded videos in advance, screen-share their pieces during the class and receive valuable feedback from our guest artist and veteran teacher.
Clara Kempter is a senior Music Performance major in the Hayes School of Music at Appalachian State University, studying with Dr. Nancy Schneeloch-Bingham. She has studied baroque flute and Irish traditional flute in ASU's Study Abroad program in Irish Traditional Music. Piece: Charanga (1993), Michael Colquhoun (b. 1953)
Katie Grischow is a senior at the University of North Carolina at Greensboro majoring in Flute Performance and Arts Administration while studying with Dr. Erika Boysen. She has participated in masterclasses for Marianne Gedigian, Nathalie Joachim, and Aaron Goldman, among others. Piece: Jim and John (2015), Michael Fiday (b. 1961)
10:00 – Participatory Class on Extended Techniques – led by Molly Barth
All are invited to participate in this online session; have your flute & notepad at hand!
11:00 – Town Hall for Teachers: "How to keep teachers and students engaged"
Coordinated by Nancy Schneeloch-Bingham & Catherine LeGrand.
Join a virtual gathering to share what we've learned about teaching during a pandemic – ideas, resources, and thoughts for the future.
12:00 – Lunch
This is an opportunity to connect with one another in an informal online setting; feel free to "bring your lunch" while engaging in conversation. Break-out rooms will be available for those wishing to connect with specific persons.
1:00 – Flute Choir Meet-up
The session will begin with a virtual flute choir performance, coordinated by Amy Holt and featuring members of RAFA's flute ensembles! Break-out rooms will be available for open conversation with one another.
2:00 to 4:00 pm – Exhibitor Showcases
RAFA's corporate sponsors will lead 25-minute sessions on a variety of topics. Details TBA.
4:00 – Concert by Molly Barth (flute) and Heather Conner (piano)
The pre-recorded concert will feature unaccompanied music of women and black composers (Katherine Hoover, Shulamit Ran, Andre Myers, and Adolphus Hailstork) and a flute & piano work by Mexican-American composer Samuel Zyman. Engaging music videos will showcase each piece, and the use of poetry (Emily Dickinson, Katherine Hoover, and Shel Silverstein) will provide evocative segues from one piece to the next.
Student Showcase Recitals
Pre-recorded performances of Review & Contest winners will be available to view at your convenience throughout the day/weekend.
---
Pedagogy Colloquium
February 21, 2021
2:00pm – 4:30pm
Three RAFA teachers share their wisdom and experience. Each segment will
conclude with Q&A and discussion opportunities.
Zoom login info will be sent to RAFA members the week of the event.
2:00 pm The Brag System: The far-reaching and unexpected benefits of in-studio masterclasses presented by Catherine LeGrand
Catherine will discuss the methods and benefits associated with her in-studio flute masterclasses in which she brings students of all levels and ages together to hone their skills as musicians and develop a love for performing. Catherine will share the far-reaching benefits of her Brag System for both performer and auditor.
2:45 pm Introduction to Universal Design for Learning (UDL) presented by Dr. Nancy Schneeloch-Bingham
UDL is an educational framework based on research in the learning sciences, with the goal of creating flexible learning environments that help a diversity of students learn in a variety of ways. When we moved our flute studios online in 2020, we all made accommodations in our teaching. This introduction to UDL will explore the principles of
this method and how they can be used to enhance our online teaching in 2021 and beyond. 
3:30 pm The Cadenza: A Brief Historical Perspective and Pedagogical Considerations presented by Dr. Kelly Nivison
A study of late baroque through classical cadenzas, including period- specific musical examples, composition guidelines, and sources for your students.
---
Solo & Ensemble Fest (17th annual)
April 24, 2021
Graded repertoire examinations for all ages; participants can choose to enter the solo and/or ensemble category.
---
RAFA Members' Recital
May 2021 (date TBD)
Featuring RAFA members performing in solos, small ensembles, and flute choirs.
---