Due to growing concerns of COVID-19 and the exposure to people at community and group events, RAFA has decided to suspend all in-person activities until larger health risks caused by this issue are resolved. RAFA is dedicated to reducing risks and keeping our members healthy.
See our COVID-19 Update page for the newest information.
Mark your calendar now and plan to join us for another exciting season of flute events!
You can download our season brochure here.
Jump to:
9/20/20 Laura Stevens
11/8/20 Review & Contest
POSTPONED: Artist Competition
11/14/20 Flute Fair
2/21/21 Pedagogy Colloqium
4/21 Solo & Ensemble Fest
5/21 Members' Recital
---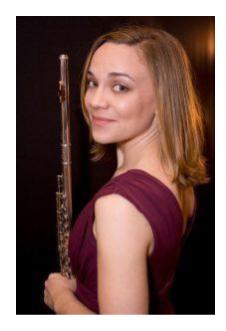 Concert & Class featuring flutist Laura Stevens
Sunday, September 20, 2020
1:00-3:00pm
This is a VIRTUAL EVENT. Those with current membership status for the 2020-2021 season will receive an email with login information to access the online concert and class. Join or renew your membership here. Contact info@rafaflutes.org or 919-781-3225 with questions.
Laura Dangerfield Stevens, flute professor at UNC Chapel Hill, member of Elektra Winds and Salisbury Symphony, and principal flutist of Western Piedmont Symphony, will perform a live-streamed concert with pianist Yumi Kita, followed by a presentation on how to make a great video and recording on any budget.
1:00 – 2:15 PM Concert: #trendingladies
The concert by flutist Laura Stevens and pianist Yumi Kita will feature works by Eugénie Rocherolle, Katherine Hoover, Valerie Coleman, Anne Boyd, and Yuko Uebayashi.
2:30 – 3:30 PM Class/Presentation: "Making Audition Recordings in the Age of COVID: Tips on how to make a great video and recording on any budget"
---
Review and Contest (36th annual)
Sunday, November 8, 2020
Virtual Event
Review and Contest (36th annual) Sunday, November 8, 2020 1:30 – 5:30 PM Scholarship competition for local flutists of all ages. Contest winners will have the option to submit a pre-recorded solo as part of the virtual Flute Fair on Saturday, November 14.
See R&C Page for full rules and registration.
---
POSTPONED: RAFA Artist Competition (6th annual)
Due to the COVID-19 pandemic, the 6th annual RAFA Artist Competition is postponed until the Fall of 2021.
---
RAFA Flute Fair (32nd annual) with guest artist Molly Barth
Saturday, November 14, 2020
Virtual Event; 9:00am – 5:00pm
The online sessions will include a class and concert by guest artist Molly Barth (Grammy Award- winning flutist, clinician, and Vanderbilt University's Blair School of Music professor of flute); exhibitor presentations; meet-up groups; workshops; Student Showcase pre-recorded performances by RAFA Contest winners; and a virtual recording by RAFA Flute Choirs!
---
Pedagogy Colloquium
February 21, 2021
2:00pm – 5:00pm
RAFA teachers share their wisdom and experience.
---
Solo & Ensemble Fest (17th annual)
April 2021 (date TBD)
Graded repertoire examinations for all ages; participants can choose to enter the solo and/or ensemble category.
---
RAFA Members' Recital
May 2021 (date TBD)
Featuring RAFA members performing in solos, small ensembles, and flute choirs.
---