Recital/Masterclass with Erika Boysen
Sunday, September 24, 2017
2:00 – 5:00pm
Carswell Recital Hall, Meredith College (Raleigh)
Free for RAFA members; $15 general admission
Erika Boysen, Associate Professor of Flute at UNC-Greensboro, is known for her verve, energy, and innovation in teaching and playing. Her recital will be followed by a participatory class for all ages (bring your flute!).
2:00 – 3:00pm Concert by Erika Boysen (flute) and Inara Zandmane (piano), featuring works by Valerie Coleman, David Biedenbender, Timothy Hagen, Blaž Pucihar, and John Rutter.
3:00 – 5:00pm Interactive class in two parts – Bring your flute!
Part I: Free-Improv Workshop
This is a workshop for those who ARE or ARE NOT comfortable playing without music. We begin with accompanying our favorite pop artists and eventually end with groups "composing" works for performance. During this session we will abolish preconceived notions of right vs. wrong and good vs. bad, and embrace spontaneity, freedom of expression and collaborative relationships through performance and discussion.
Part II: Vibrato: The Insider's View
What is vibrato? How and where does a flutist produce vibrato? Come get the insider's view on vibrato production and how flutists manipulate amplitude and frequency. We will address how the perception of vibrato production has changed through history, understand the physiological differences between flutists' and vocalists' vibrato, and build awareness of areas of production in the body. The class will include interactive audience participation, as well as a mini-masterclass with an emphasis on vibrato.
---
33rd Annual Review & Contest
Sunday, November 5, 2017
1:30 – 5:30 pm
Highland United Methodist Church, Raleigh
VIEW REVIEW AND CONTEST
---
3rd Annual Artist Competition
Friday-Saturday, November 10-11, 2017
Highland United Methodist Church, Raleigh
VIEW ARTIST COMPETITION
---
RAFA Flute Fair with guest Lorna McGhee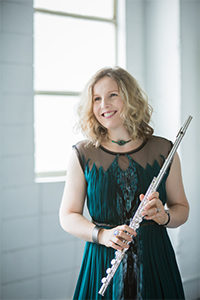 Saturday, November 11, 2017
8:30 am – 5:15 pm
Highland United Methodist Church, Raleigh
Free for RAFA Members, $15 general admission (at the door)
The day's events include a class and concert by Scottish-born flutist Lorna McGhee (principal flutist of the Pittsburgh Symphony and professor at Carnegie Mellon University); exhibits of the latest flutes and accessories; recitals showcasing Review and Contest winners; participatory workshops; and the final round of the RAFA Artist Competition.
8:30 am Registration Opens; Visit Exhibit Hall (open 8:30-4:00)
9:00 – 9:50 am Recital: Zach Warren (flute) & Kenneth Grigg (piano)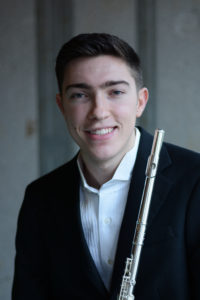 Winner of 2016 RAFA Artist Competition, Zach will perform works by Mozart, Doppler, Sancan & Andersen
10:00 – 10:30 am Group class on Tone/Breathing: "Effortless Resonance and Dynamic Expression"
Led by Lorna McGhee
10:30 – 11:15 am Masterclass – Led by Lorna McGhee
11:15 am – 1:00 pm Lunch (provided on site for $5)
11:30 am – 12:30 pm RAFA Contest Winners' Recital (part 1)
11:30 am – 12:15 pm Workshop: Beatboxing 101 – led by Erika Boysen
Bring your flute and join in the fun! The skills learned in this class will be used in the Flute Choir Beatboxing! session at 2:45.
1:00  – 2:30 pm Artist Competition Finals
All are welcome to sit in on this final round of the competition. The three competing finalists will be selected from Friday evening's semi-final round.
2:45 – 3:45 pm RAFA Contest Winners' Recital (part 2)
2:45 – 3:45 pm Flute Choir Beatboxing! – led by Nicole Chamberlain
Open to all, this session will introduce us to exciting new flute choir music by composer/flutist Nicole Chamberlain, whose piece "Chivy" won the 2017 NFA Flute Choir Composition Competition. If you have auxiliary instruments (picc, alto, bass or contra), please bring them with you.
4:00 – 5:15 pm Gala Concert: Lorna McGhee (flute) & Vahan Sargsyan (piano)
J.S. Bach,

Chaconne from Partita No. 2 in D minor, BWV 1004 

Carl Frühling, Fantasy for flute and piano op 55

Jacques Ibert,

Concerto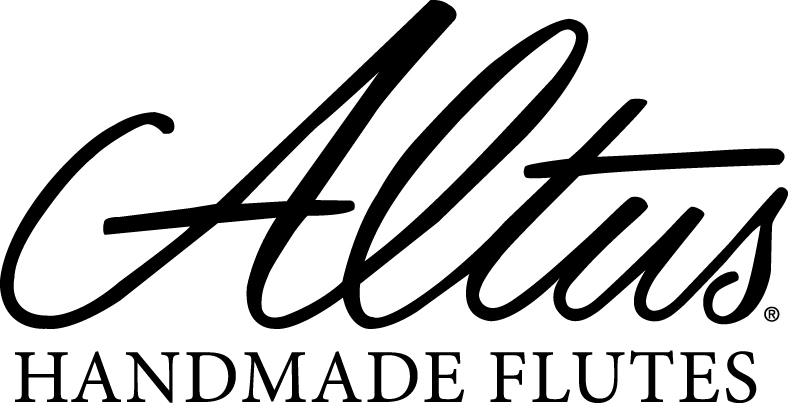 This appearance of Altus Artist Lorna McGhee has been made possible, in part, through an Educational Grant from Altus Flutes. Lorna McGhee performs exclusively on Altus Flutes.
---
Flute Choir Day with Clinician/Composer Ricky Lombardo
Sunday, March 18, 2018
Clinics 1:00-5:00pm
Concert 5:00pm, free and open to the public
*Please note this change of venue!*
Church of the Nativity
8849 Ray Rd, Raleigh, NC 27613
Ricky Lombardo is a well-known and beloved music educator, flutist, composer/arranger, and publisher (Lombardo Music Publications). The afternoon will include coaching sessions for RAFA's flute choirs, as well as an open mass flute choir rehearsal and performance of his composition "Renaissance for a New Millennium."
*Even if you are not a member of a flute choir, you are welcome to participate in the mass flute choir session led by Mr. Lombardo (3:40 PM rehearsal and 5:00 PM performance).  If interested, please contact Amy Holt at amybholt@gmail.com, and she will forward music & details to you.
Clinics and Coaching
1:00 pm – Durham Flute Choir – "Let There Be Peace on Earth" and "Londonderry Air"
1:40 pm – Silver Pipes/Winds – "Ashokan Farewell"
2:20 pm – Flute Cocktail – Una Fiesta de Canciones Folkloricas
3:00 pm – Silver Fantasy – Reflections
3:40 pm – Mass Flute Choir – Renaissance for a New Millennium – conducted by Ricky Lombardo
4:10 pm – Raleigh Flute Choir – Latino Contemp
Concert
5:00 pm – 6:00 pm
Featuring all of RAFA's flute choirs
The Mass Flute Choir will end the performance with Ricky Lombardo's Renaissance for a New Millennium
---
14th Annual Solo & Ensemble Fest
April 14, 2018
​1:00 – 5:00pm
Meredith College, Wainwright Music Building
VIEW SOLO & ENSEMBLE
---
Members' Recital
May 20, 2018
Presented in memory of Mary Croghan
Pullen Memorial Baptist Church, Finlator Hall
1801 Hillsborough St., Raleigh, NC
3:00pm
Parking is available behind the church or along Cox Ave. The church owns the building and parking lot behind the church, so feel free to park in any of those spaces. Finlator Hall is located just inside the rear entrance.
This annual end-of-year recital will feature 40 RAFA members performing in solos, small ensembles & flute choirs. The event is open to the public at no admission charge. A reception will follow the concert.
---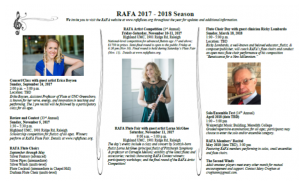 Download our Season Events Brochure to see all of the 2017-2018 events.