The Review and Contest is an annual event sponsored by RAFA to further the education of RAFA member flutists. It is an opportunity for flutists of all levels of playing ability to perform for professionals who provide written comments and suggestions for improvement. Students (grades 1 through 12 or at least half-time students in college or graduate school) may enter the Review or Contest, and adults may enter the Adult Review. Each participant performs two pieces for evaluation by two judges.
Contest participants compete against other flutists in the same division and grade level. Contest winners receive prizes of scholarship money and perform in the RAFA Student Showcase at the RAFA Flute Fair on Saturday, November 10, 2018, at times to be announced.
Adult flutists and students who choose not to compete may enter the Adult Review or Review, where they receive written evaluation but are not eligible for scholarship prizes.
2018 Review and Contest Details
Sunday, November 4, 2018
1:30 – 5:30pm
Highland United Methodist Church, 1901 Ridge Rd, Raleigh
---
2018 Review & Contest Results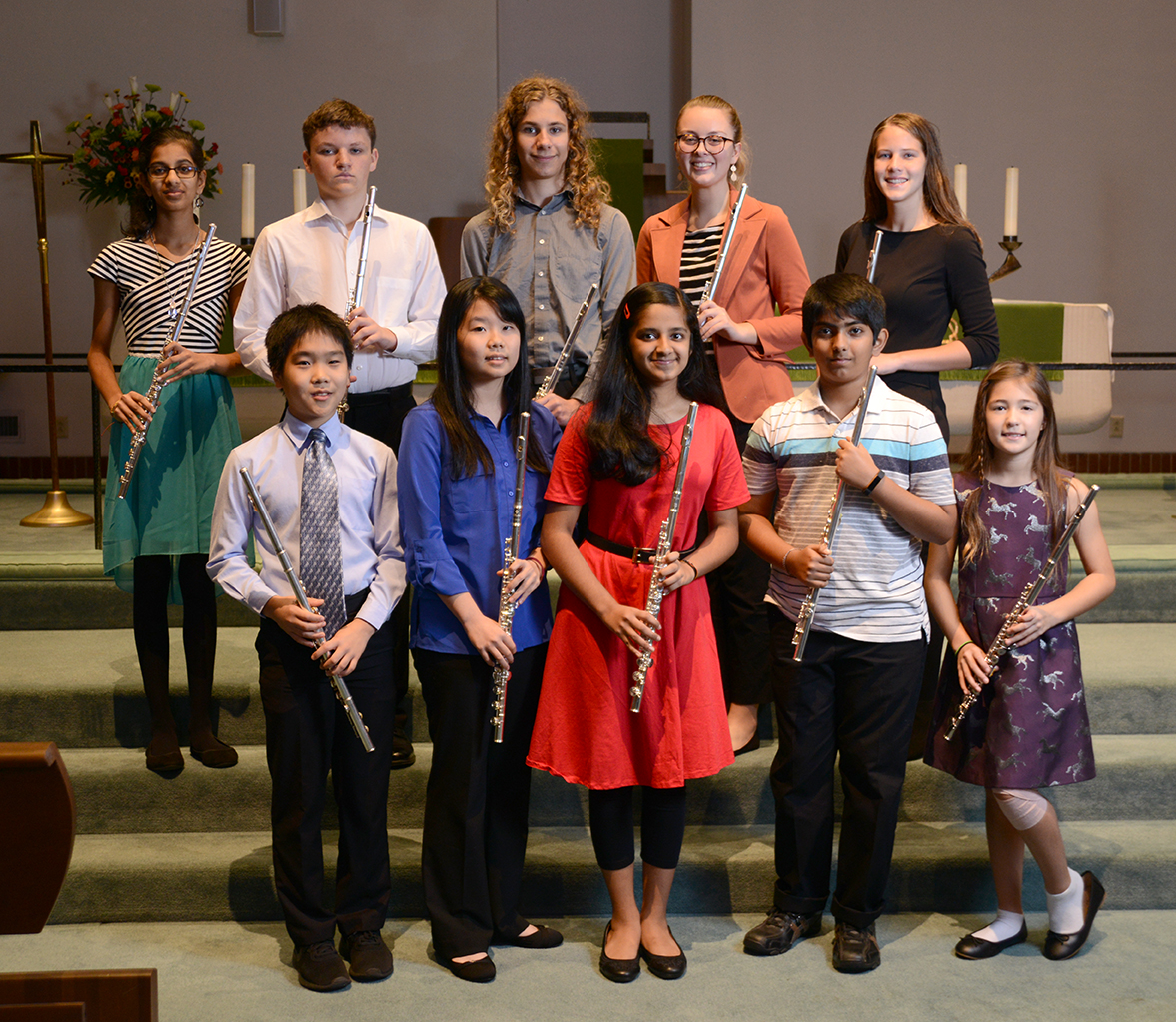 Division 1 Elementary
Winner: Evie Felten
Honorable Mention: Tricia Oh
Division 1 Middle/High School
Winners: Emily Capell, Monish Shah
Honorable Mention: Joseph Craig
Division 2 Elementary
Winner: Srihitha Mandalapu
Division 2 Middle/High School
Winners: Surya Krishnamurthy, Akshaya Rajesh, Georgia Zazzaro
Honorable Mention: Soonmin-Joshua Kwon
Division 3 Elementary
Winner: Orion Song
Division 3 Middle/High School
Winner: Nivedita Ravishankar
Honorable Mention: Alice Cheng, Leo Molinoff
Division 4 Middle/High School
Winners: Risheetha Bhagawatula, Katie Perkins, Sanjana Premnath, Emily Wang
Honorable Mention: Maria Beisser, Carly Gillis, Varun Iyer, Abby Lu
Division 5 Middle/High School
Winners: Kate Lennon, Brennan Robbins, Sharon Wang
Honorable Mention: Kaley Edgington
Division 6 Middle/High School
Winner: Campbell Massengill
Honorable Mention: Janie Grischow
Division 7 Middle/High School
Winner: Emily Qiu
Honorable Mention: Will O'Donoghue
Division 5 Undergraduate
Winner: Bryan Culler
Honorable Mention: Carolina Herrera, Reece Neff
Division 6 Undergraduate
Winner: Elizabeth Church
Honorable Mention: Sydney Horner
Division 7 Undergraduate
Winner: Caroline Church
---
Repertoire Lists 2018 – 2021
Registration for the 2018 Review and Contest will close on September 21, 2018.
2017 Review and Contest Results
Click to see the list of winners and honorable mentions.